We feel so lucky to provide personal training and yoga instruction to incredible clients! We are especially grateful to those clients who are willing to share their ZenRock experience and story to help spread the word about our amazing trainers and the fitness services. Thank you for supporting our small, woman-owned business! Read the stories below to learn about what attracted each client to ZenRock Fitness, what they like most about training with us, and the goals they are working to achieve.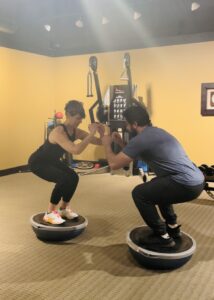 Shannon's Story
I was attracted to ZenRock Fitness because I wanted a change from the big chain gyms. I liked the fact that it was a smaller boutique gym with a really cool vibe.
What I like most about working out at ZenRock…
The trainers are awesome! Thank you, Mehdi, for putting up with me for 6 years now.
The atmosphere is great.
tastefully decorated
I have found my "happy place" while getting physically and mentally stronger.
Originally, when I first started training at ZenRock, I just wanted to lose the fat and gain muscle tone. But over the years, and a few injuries later, I have changed my mindset. I now have come to realize how important it is for me to get as strong as I possibly can. Although, I am still chasing that elusive pull up! But I am not giving up…I will get there. I am more confident. I AM stronger. And…I believe in myself.
I continue training with ZenRock for my overall well-being. I am making an investment in myself. Not only for the physical strength, but also for the mental strength. ZenRock is a very big part of my health care.
Ranjita's Story
I was attracted to ZenRock because it offers boutique personal training and has trainers that also do yoga.
I love working out at Redmond just for my trainer, Britt. Her attention to detail is impressive and her energy is infectious. She is the reason why I continue with personal training.
Since beginning my fitness journey with ZenRock, I am leaner and stronger. I am most proud of sticking with the training program. I am trying to build a better routine and getting there.
Shu-Fen's Story
I previously attended a large fitness classes, but didn't love the group setting. Thus, I wanted to try personal training to see how I would like it, which is what ZenRock caters to.
What I like most about working out at ZenRock is…
cleanliness
privacy
tastefully decorated
my trainer is the best!
My goal for training at ZenRock is to lose weight. Not only have I started to lose weight, but I'm building more muscle mass.
I continue training with ZenRock because doing so keeps me accountable on my fitness journey. Plus, I enjoy talking with my trainer, Petra. 🙂
Jill's Story
There were 3 things that attracted me to ZenRock:
One-on-one personal attention with top trainers
location (Bellevue for me)
Not your everyday gym, it is warm and welcoming with great staff and art!
What I like most about working out at ZenRock is the small studio feel so that I am not distracted by noises or intensity level of someone working out next to me. I can focus and get the best workout for what I need in that hour and not get caught up in a competitive environment.
Due to the personal attention and experienced trainers I have worked with, I have increased my upper body strength, with out injury for the first in my 30 plus years of trying. I have been able to experience working out and practicing yoga with less self-judgement during my workout. This is due to the warmth and professionalism of the trainers and because I am not in a big gym with all levels of workouts going on around me, psychologically challenging me to stay in my lane.
I continue to return to ZenRock for my trainer – Petra, Petra, Petra! I love the undivided attention I get from Petra whether we are doing Yoga or lifting weights. She is teaching me verses leading me through a bunch of exercises. I feel she is always looking out for how to push me in a safe way so that I feel that I am making progress and seeing results.
Connie's Story
I learned about ZenRock Fitness from an "A Frame" board in front of the door at the Bellevue studio. It listed, among other things, "flexibility & balance". That was just what my husband and I needed after such a long time inside our condo during the pandemic! As seniors, we needed to stretch and move again with functional training.
What we love most about working out at ZenRock are the trainers! They are so warm and inviting! We received individual focus on our pain, even though my husband and I went together. My goal was to increase my flexibility, balance, and reach to be more functional in my daily activities.
I needed to pick up a wiggly puppy as I am sitting on the floor, without much use of my hands to get up. The puppy got bigger and heavier every day! It has been so rewarding to see the progress to getting the balance and strength to do this.
I return to ZenRock Fitness because it is very enjoyable, close to home, easy to walk to, wonderful knowledgeable trainers, great equipment, calming atmosphere, soothing music, and yoga too! 🙂