Yoga Adventure Retreats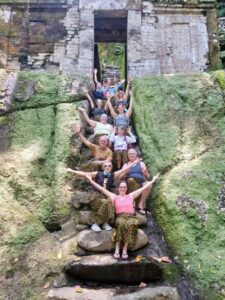 At ZenRock we spend time getting stronger, finding more flexibility, building better habits and maintaining healthy balance. Our Yoga Adventure Retreats are a further exploration of that healthy balance with the added bonuses of food, drink and friends. Our bi-annual journeys offer special opportunities to expand your yoga practice, travel with an amazing group of people and see parts of the wider world, as well as hidden gems in our own backyard that you might otherwise never visit. These retreats include airport transfers, accommodation, local food, fabulous excursions, twice daily yoga and meditation.
We plan everything! All you do is purchase airline tickets and show up. All activities are encouraged, but they are optional, which allows each person to choose how they spend their time. These trips are intentionally designed to help the participants get away from their normal life and hopefully gain some insight into living more authentically. Travel and yoga – what a beautiful combination! Each trip we take with our small groups of adventure seekers brings something new and different while always holding space for renewal, discovery, growth, and simple joy. 
October 2019: We made the journey to Italy for Yoga and Cooking in the Tuscan countryside.
October 2021: We had a succesful first retreat post-covid! We traveled to the desert to explore Zion National Park in Utah.
February 2022: Our retreat group traveled internationally again with an adventurous and exciting itinerary in Costa Rica!
To learn more about recent retreats we've led, you can check them out on our Retreats page.
Check out additional galleries from our trips to Portugal, Costa Rica 2018, Costa Rica 2015, Bali, and Greece. View retreat videos from Bali, Petra, Nova, and Greece.
---
To be informed about future yoga adventure retreats, please subscribe to our monthly newsletter using the form below.