Yoga Instructor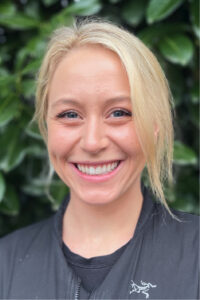 I have always been a mover. A go getter athlete. That strong, go, push mentality enabled me to reach my dream. To play college softball at the Division 1 level. However, along the way I must have missed the rest, relax, and repair seminar. Because just a year and a half into my dream I had worked so hard for, it began to unravel. My body wasn't functioning. Injury after injury left my spirit broken and my mind lost. I had no other option than to do something different. So, I took up a yoga class with the hope that it would solve all the injuries. I'll put it this way – it did AND it didn't work. At first, I took my athletic mentality with me into every yoga class: push, go deeper, full expression, chaturanga. Until…wait for it…yup, another injury. And another. For some reason I must have needed to learn the hard way how to rest, relax, and repair. With no other physical options, I dove head first into the healing arts, dance, yin yoga, meditation classes, and sound baths. It was a profound challenge. As I stayed consistent with my practice, my mentality began to open, soften, and change. Injuries healed and as I started moving again I did so in a whole new way. I backed off, took breaks, and listened to my body. I'll testify that it truly healed my body, mind, and spirit. My journey still continues; however, now I feel called to share the gifts of yoga with others.
I help curious and brave individuals – who desire change – to feel, heal, and breathe so they can cultivate a transformative relationship with their body, mind, and spirit.
In my classes, I encourage you to move intuitively and offer moments of freedom to dance toward sensations that nourish your practice. We will weave movement and breath together so you can consciously connect to your body and calm the mind. I creatively sequence movements that step outside the box because if we seek to change, we must move differently. When we move differently, we think differently. And when we think differently, we can live a life that embraces change on and off the mat.
"If nothing changes, nothing changes." –Courtney Stevens
I invite you to come to class curious about movement, each brave breath will illuminate your path towards the transformation you seek.
I'll be with you every step of the way cheering you on, because you got this.
Professional Certifications:
Yoga Certified 200-hour RYS
CPR/AED Certified