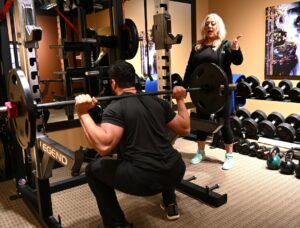 ZenRock is committed to helping you lead a healthy and balanced lifestyle by providing you opportunities to explore various aspects of personal wellness. We believe that one-on-one personal training is the key to your success. Each training session takes place in a uniquely designed training room, optimized for your individual training plan. Our training focuses on balancing the body using free weights and your own body weight for exercises that mimic natural movements.
At ZenRock, your personal trainer in Bellevue or Redmond will mentor and inspire you, developing an individual integrated fitness program based on your goals. They will consider the many facets that contribute to your success, including lifestyle, nutrition, and physical limitations. This caring and attentive counsel enables you to enjoy a program that improves how you feel, as well as how you function throughout your daily routines. Your program will include a variety of physical, educational, and relaxation activities.
Our fitness and lifestyle services include:
Private and Partner Training
Strength
Athletic (speed, agility, and power)
Cardio / Endurance
Balance
Yoga / Mindfulness
Training Packages:
No annual, start-up, or membership fees
Every program is specifically created for each individual
We have a package to fit most schedules, fitness levels, and budgets
All new clients receive a complimentary fitness evaluation and one private training session
Hourly and half-hour sessions available
Call us in Bellevue at (425) 406-0045, in Redmond at (425) 591-9528, or send a message if you have questions.
---
To get a monthly dose of Zen, please fill out the form below.