At ZenRock, we aim to nourish a sense of community for our clients. In addition to our Yoga Adventure Retreats, we offer Special Events centered around mental and physical health and wellness at our Bellevue and Redmond studios. While we inform and encourage our clients to participate, we also welcome individuals from the local community to join when possible. We hope all our events provide a fun, positive experience!
If you have any questions or need assistance, please email us.
December
Wreath & Wine Workshops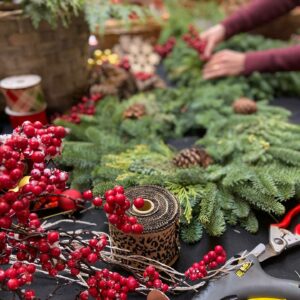 Sip some wine from Damsel Cellars and bring out your creative side with Cora Morrison of Alula Boutique Containers.
The cost for each workshop (wine included!) is $110.
Cora and her company specialize in artful living displays. Her center of inspiration and creativity comes from her woodland property east of Redmond where she experiments with plant combinations. Cora also cultivates and harvests material there for her botanical displays.