Here at ZenRock, we're all about helping people lead healthier, happier lives. One of the simplest ways to get there is through the power of habits! They shape our daily routines and determine our overall health and wellness, so why not make them work in your favor?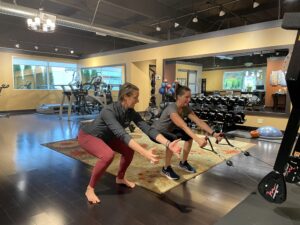 Here are 10 habits that we think could make a big impact on your life:
Hydrate, hydrate, hydrate! Drinking at least 8 glasses of water a day is key to feeling refreshed and energized.
Eat the rainbow! Incorporating plenty of fruits, veggies, whole grains, and lean proteins into your diet will give you all the nutrients you need.
Get moving! Try to get 30 minutes of physical activity a day, whether it's a jog, a brisk walk, or a yoga class. Trust us, you'll feel the difference!
Sweet dreams! Getting 7-9 hours of quality sleep a night will have you feeling more rested and ready to take on the day.
Chill out! Try deep breathing, meditation, or mindfulness to help reduce stress and improve mental health.
Ditch the junk! Limiting your intake of unhealthy foods high in sugar, salt, and unhealthy fats will do wonders for your overall health.
Be grateful! Start each day by writing down three things you're grateful for, and you'll soon find yourself focusing on the positive.
Say no to smoking and excessive alcohol consumption. Your health will thank you!
Connect with others! Strong relationships with family and friends can boost mental health and reduce stress.
Take care of you! Make time for activities that bring you joy, like reading a book, taking a bath, or practicing yoga. You deserve it!
By incorporating these habits into your daily routine, you'll soon notice improved energy levels, reduced stress, and an overall improvement in your health and well-being. Plus, with our support, it'll be easier to stick with these habits for the long haul. So why not give it a try and see what a difference it can make in your life?