Authored by ZenRock Personal Trainer, Heidi Ellis | Check out Heidi's bio to learn more about her!
In our last blog post, we discussed 5 Mistakes to Avoid when looking for a personal trainer. Now, we want to tell you about how to find the right fit for you. Finding the right personal trainer can be daunting. There are so many trainers out there claiming to be the best! Here are five ways to find the right fit.
#1 Look at reviews.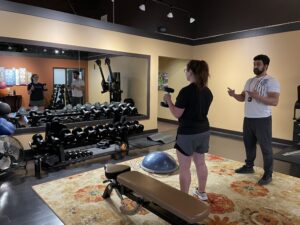 Most gyms and trainers have an online presence with honest reviews from clients. When you read reviews, look for comments on both trainer knowledge and client experience. Both are important to a great experience and achieving the results you want. ZenRock Fitness has many wonderful reviews. Please feel free to read the reviews we've received on Google at both our Bellevue and Redmond studio locations.
#2 Tour the gym and meet the trainers.
While online research is an important first step, actually stepping into the studio or gym to experience the atmosphere for yourself is essential. You may find you feel comfortable and at home or just the opposite. Committing to a trainer is a big deal and you want to enjoy your time at the gym or studio. The Bellevue studio and Redmond studio are both designed with your comfort in mind. We'd love to show you how we create a fun, clean, and comfortable envirionment.
#3 Understand the specialty.
Most trainers can work with just about anyone but have a specific specialty. Our trainers work well with clients needing rehab, older populations, very fit clients, and those just starting their fitness journey. We love finding great matches!
#4 Enjoy a complimentary session.
Most gyms will offer a complimentary session so you can experience if a trainer is the right one for you. We offer complimentary training sessions throughout the day. Use this time to ask questions and learn as much as you can about the trainer, their background and style.
#5 Speak your mind.
Trainers love to get to know clients and understand what they are looking for. We value communication so we can make the most of your time with us. Trying to lose 10 pounds before your high school reunion? Hoping to feel more fit to keep up with your grandkids? Have a 5K coming up? When you call ZenRock Fitness to schedule your complimentary session, we ask some of these questions so you can meet with the right trainer. Even then, sometimes we find a client prefers someone different and that is fine. We are always grateful when clients tell us what they need!
We encourage anyone who is interested in personal training to take advantage of a complimentary session at either our
Bellevue
or
Redmond
fitness studios so you can try a trainer or two before you commit. We work hard to remove these obstacles and create a space that is safe to make sure you find the perfect fit. Reach out to us to schedule your
personal training session
and let us know how we can help you in your fitness journey.