This retreat has already occurred, but the information below provides a good overview of what what we plan for our Yoga Adventure Retreats and how we present them to participants. You can also view videos and photos from the Zion retreat on our Instagram channel.
---
October 2021: 6-Day Yoga Adventure Retreat
Are you ready to get away? Ready to challenge yourself in new ways in one of the most beautiful and energetically special areas of the world? Join ZenRock Fitness on an unforgettable yoga adventure in the high desert near Zion National Park. We will challenge our bodies and renew our spirits with outdoor activity, amazing food, spectacular vistas and plenty of time for relaxation.
Included:
Accommodation for 6 nights in a fabulous desert villa
Daily yoga with Nova (twice on most days to keep your body supple)
Healthy, delicious breakfasts prepared at the villa each morning after yoga
Lunch served out on excursions or in the local towns
Chef-prepared dinners
6 scheduled adventures in the desert (equipment, park passes, and fees included)
Transportation from and to Las Vegas
Excursions Included:
Hiking in the Valley of Fire
Intro day on the mountain bikes on the JEM trail
Paddle outing at Quail Creek State Park
Hiking Zion National Park
Mountain bike at Church Rocks
Red Hills Desert Garden
---
The Villa…
We will be staying at the distinguished Desert Villa located in the resort at Stucki Farms. This gorgeous villa will be our space to come together each day and rest each night.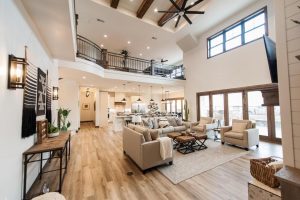 Every room in this stunning 8-bedroom home has been thoughtfully designed with every detail in mind to showcase southern Utah's beautiful desert scenery.
The back yard features an 8-person spa, pergola, fire pit, and comfy lounge furniture. The villa sits 50 feet from a common area which features a resort pool, lazy river, and mini golf – in case we want to play a round!
---
The Cuisine…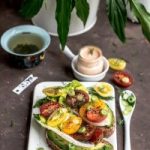 Each morning after yoga we will eat healthy, hearty breakfasts to fuel our adventures. Lunches will be enjoyed alfresco during or after each day's excursion. Dinners will be prepared by our chef in the villa each evening. Expect to indulge and be pampered after playing hard outside! We will do one dinner out at a restaurant to enjoy the local ambiance.
All dietary restrictions and special requests will be accommodated. Please let us know whether you are vegetarian, vegan, dairy-free, gluten-free, or have any other allergies we should be aware of.
---
The Adventures…
Valley of Fire State Park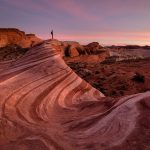 On our drive from Las Vegas, we will stop for a stunning hike into the red rock wonderland. Make sure you have your phone or a camera for this one. We will do a 2.5-hour loop hike on the Seven Wonders route. The beige and red swirls are sure to take your breath away.
Our hike will be followed by a picnic lunch before arriving at our villa to settle in and do our first yoga session.
Mountain Bike Intro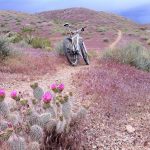 Our focus today will be getting comfortable on our bikes and learning the fundamentals of mountain biking, all while exploring the well-known Jem Trail.
This flowy masterpiece of a trail is a ton of fun! You will most likely be begging for a second lap after lunch.
No problem…our guides will be right there with us!
Paddle at Quail Creek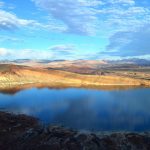 We will spend a day on the water at the lovely Quail Creek State Park. You can choose to kayak or paddleboard with the backdrop of red rocks as far as the eye can see. For the more adventurous, Nova will offer a few paddleboard yoga poses and challenges.
Bring a swimsuit for this day…in case you fall in or decide to take a swim if the water calls to you. Lounging on one of the sandy beaches is also fully acceptable and encouraged.
Hike Zion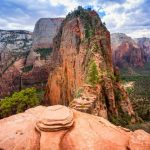 We will spend a day in Zion National Park and have multiple options for hikes.
It is impossible to have a bad hike in this magnificent park!
Whether you are feeling like an easier hike with less elevation gain in the Narrows or seeking to climb to the heights of Angel's Landing, we will make sure you are with the right group and guide.
Mountain Bike Take II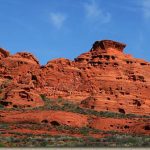 We will head over to the Grapevine trailhead at Church Rocks and use the skills we learned on our first ride. This ride will offer fast and flowy sections, slickrock slabs, and beautiful scenery.
After lunch, we will continue to the Green Valley trail network and find ourselves on some more flowy desert trails. There are a lot of trail options here! We will regroup and decide on what type of trails best fit the group's ability.
Desert Garden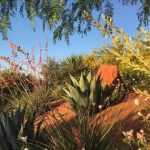 On our way out of town, we will stop at the Red Hills Desert Garden for a short tour of Utah's first interactive desert garden showcasing water-efficient landscapes, endangered species, and prehistoric tracks.
The nearly 5‑acre garden features 5,000 water-efficient plants, a 1,150-foot stream stocked with native and endangered fish species, and prehistoric dinosaur tracks found onsite that date back 200 million years.
---
Your Host…
Nova Guthrie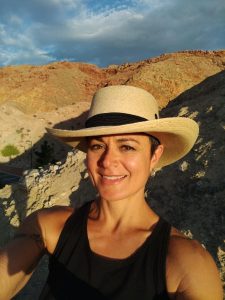 Travel and yoga – what a beautiful combination! Each trip we take with our small groups of adventure seekers brings something new and different while always holding space for renewal, discovery, growth, and simple joy.
The desert southwest is an ancient area full of history and beauty. It is a place that I have lived, worked, and played in. I love it more every time I return! Its vistas and special energy are not to be missed. At ZenRock, we spend time getting stronger, finding more flexibility, building better habits, and maintaining healthy balance. Our yoga journeys are a further exploration of that healthy balance with the added bonuses of food, relaxation, and friends. I cannot wait to have another adventure and to share the desert with you!
---
Our Expert Guides…
Sacred Rides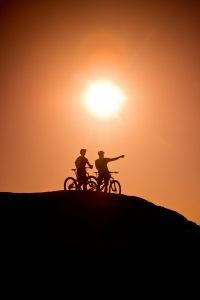 We are excited to share this epic adventure with two expert guides from Sacred Rides. They will pick us up in Las Vegas and guide us through each day's hike, bike, paddle, and drive.
They will make sure that our equipment is perfectly tuned and that our safety is always first and foremost. They will drive us to our adventures and greet us each morning in the kitchen after yoga.
They know every inch of our hiking and biking locations and will make sure that we see and experience the best of it!