This retreat has already occurred, but the information below provides a good overview of what what we plan for our Yoga Adventure Retreats and how we present them to participants. You can also view videos and photos from the Costa Rica retreat on our Instagram channel.
---
February 2022: 9-Day Yoga Adventure Retreat
Costa Rica in February is the perfect escape from Seattle's rainy gloom. If you are ready to head south for some sun, sand, and tropical paradise, join us on a magical 9-day adventure! We will immerse ourselves in the local culture and step out of our normal routines to find rejuvenation in the delights of the jungle and the ocean.
Included:
Accommodation for 8 nights (3 nights jungle glamping | 5 nights luxury villa)
Twice daily yoga overlooking the jungle or beach
Healthy, delicious, chef-prepared meals (breakfast, lunch & dinner)
6 scheduled adventures
Transportation provided from San Jose, CR to accommodation and back to San Jose (Airfare to Costa Rica not included)
Excursions Included:
River float to pristine waterfalls for swimming
Jungle hike through nature preserve
Cooking class with local abuela
Kayak the Savegre River from the mountains to the mouth
Beach day with opportunity to surf, kayak, or hike
Horseback trail ride to panoramic views of the ocean
Sunset catamaran cruise with snorkeling and dinner
---
Los Hospedajes…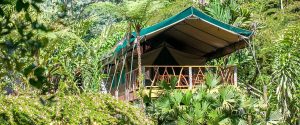 We will spend our first three nights at Rafiki Jungle Lodge in safari-style tents overlooking the jungle. These tents come with cushy king or queen beds, full bathrooms, and private, covered patios. Glamping at its finest!
We will share chef-prepared meals at the main lodge which also has a bar overlooking the pool and more of the 840 acre rain forest. This preserve is covered with trails which can be trekked during free time. Our open-air yoga studio is under the thatch roof of the main lodge.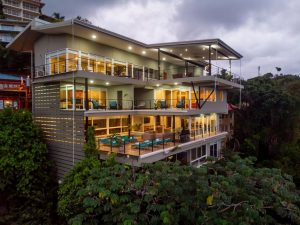 We will spend five more nights at a luxury villa in the heart of Manuel Antonio overlooking the Pacific Ocean. Casa Espanola has everything we need to fully enjoy this tropical paradise: multiple terraces with amazing views, swimming pool, and a private chef. We will practice yoga on the terraces and rest well each night on comfy, king beds with the sound of the surf in the distance.
---
La Comida…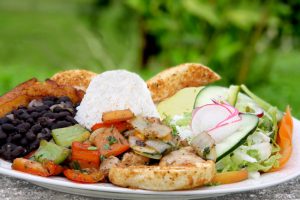 Each morning after yoga we will eat healthy, hearty breakfasts to fuel our adventures. Lunches will be on the terraces or out on excursion depending on the day. Dinners will be prepared by our chefs in the villa each evening. Expect to indulge and be pampered after each day's activity. The dinner table is our favorite place to connect and share stories.
All dietary restrictions and special requests will be accommodated. Please let us know if you are vegetarian, vegan, dairy-free, gluten-free, or have any other allergies we should be aware of.
---
Las Aventuras…
Hiking the Tropical Forest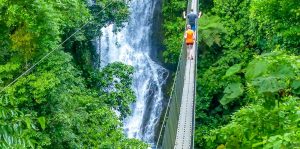 On our drive from Las Vegas, we will stop for a stunning hike into the red rock wonderland. Make sure you have your phone or a camera for this one. We will do a 2.5-hour loop hike on the Seven Wonders route. The beige and red swirls are sure to take your breath away. Our hike will be followed by a picnic lunch before arriving at our villa to settle in and do our first yoga session.
River Float to Waterfalls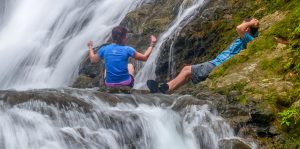 We will float the river to pristine waterfalls. Make sure to wear your swimsuit and bring water shoes as we will swim and float to our heart's content.
We will follow this with a trip to a local village for a cooking class with Dona Edith where will learn to cook Costa Rican style using fresh ingredients from her garden.
Kayak to the Ocean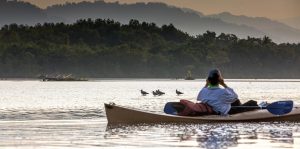 Our kayak trip explores the remote wilderness of the Savegre River estuary and its mangrove forest. Amazing shore birds, monkey encounters, sloth sightings, and breathtaking scenery make this trip a once in a life time experience. The river and tides do most of the work, so you can relax as you glide along in one of our swift sea kayaks from the mountains to the mouth of the river.
Beach Day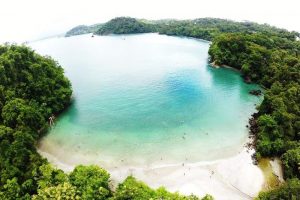 We will spend a day on Biesanz beach where your hardest decision will be whether to fall asleep reading a book under your umbrella, go snorkeling, or hike to one of several nearby hidden beaches.
There will also be an opportunity to take surf lessons at Manuel Antonio Beach if you prefer a more active day of sand and surf.
Horseback Trail Ride
We will spend part of a day on horseback in the hills above Manuel Antonio. This a trail ride to magnificent mountain views and wildlife sightings.
This is one more chance for waterfall swimming, so bring a change of clothes. We will enjoy lunch on the mountainside.
Catamaran Cruise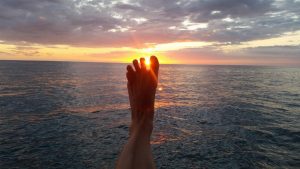 We will end our adventure in our favorite way – out on the ocean at sunset! We will head out in the afternoon to snorkel from our private catamaran. Dinner will be served on board and we will watch the sun sink into the Pacific together.
---
Your Host…
Nova Guthrie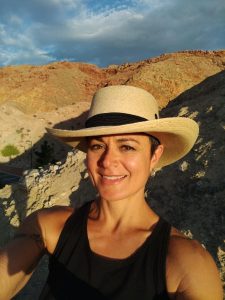 Travel and yoga – what a beautiful combination! Each trip we take with our small groups of adventure seekers brings something new and different while always holding space for renewal, discovery, growth, and simple joy.
Costa Rica is my favorite tropical destination. I have lived in San Jose and have returned to the southern, Pacific beaches many times for work and play. Costa Rica is one of the best preserved and conserved areas of the world and the people are some of the sweetest you will meet.
At ZenRock, we spend time getting stronger, finding more flexibility, building better habits, and maintaining healthy balance. Our yoga journeys are a further exploration of that healthy balance with the added bonuses of food, relaxation, and friends. I cannot wait to have another adventure and to share Costa Rica with you!
---
Additional Information
Yoga classes are customized to address the needs of all students, offering variations for beginners and advanced practitioners. All excursions are optional and will be customized to the abilities of the participants.
Airfare to San Jose, Costa Rica, most alcohol, one lunch outside the villa, guide gratuities and non-itinerary activities are not included in the quoted price.
To embrace the spirit of travel, please allow for changes to the itinerary and scheduled events due to weather, guides, and the unforeseen.