Hello! My name is Nikki Zhao and I recently joined ZenRock Fitness as a Personal Trainer. Here is my story of how I came to appreciate and love fitness. It is also why I want to help others improve their health and reach their wellness goals on their unique journey.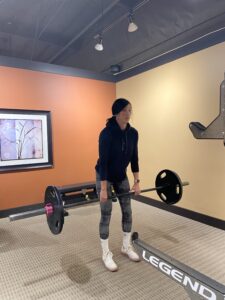 By the time my second child (Tatum) was 1 year old, I was still always exhausted and my body didn't recover as expected. I was in my late 30s then. I felt sluggish all the time. I knew going to the gym was the right thing to do. So, I went once – maybe twice – per week with no set cadence. It wasn't the most effective plan; however, I noticed some changes. At that point, my motivation was somewhat present, but I consistently found myself making excuses that nobody could blame me for as a mother of two.
Fast forward to when Tatum was 3, I suffered from violent vertigo attacks. These attacks were so bad that I ended up going to the emergency room. Over five very long, dark months, I had 3 bad attacks. In between these attacks, I was constantly dizzy, nauseous, and terrified. I didn't know when the next attack was coming. You never know something is so precious until you no longer have it. I really missed all the simple and beautiful moments in life that I previously took for granted. I vowed that if I ever regained a sense of normalcy, I'd wholeheartedly embrace each day to its fullest.
That winter, a doctor was finally able to help me reclaim my life. The snowy Utah mountains, the sun, the sky…they had never been so beautiful! I even skied a black mogul run called 'Vertigo' – something I never thought was possible. Now, I can finally say I conquered 'Vertigo'!!!
Back in the gym with a different attitude, I started to challenge myself a bit. I even made some friends along the way. These were strong women who inspired me in a way I never experienced before. With the support of friends and family, I started going to the gym more consistently. I made workout plans and started paying attention to my diet. At some point the gym became my happy place! I looked forward to going there every morning after dropping my kids off at school. I wanted to see my friends, I enjoyed the process of working out, and I was glad to see the changes in the mirror. I was simply happy.
My transformation from extrinsic motivation to intrinsic motivation helped shape the lifestyle I live now. These are the three key factors:
Open-mindedness: having the willingness to step out of the comfort zone and try new things.
Confidence: improved skill level and external benefits raise self-esteem.
A sense of belonging: friendship or engagement with others provides indispensable emotional support.
Often times we start off doing things for external benefits and factors. Persistence and having an open mind are essential to maintaining, and eventually better things await. With the right environment in place, we are set to truly embrace our passion. Remember: be yourself, be happy, and live to the fullest.
Please come train with me at ZenRock! I am currently booking clients in Bellevue and Redmond and would love to work with you. Feel free to schedule an appointment!