Authored by ZenRock Personal Trainer, Heidi Ellis | Check out Heidi's bio to learn more about her!
This is the final post in our Scrumptious Smoothie series. After all this talk about smoothies, we thought it would be fun to highlight some of our favorites! Here are a few ZenRock trainer classics.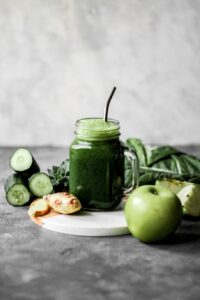 Nova's Favorite
1/3 cup coconut milk
1/2 cup water or non dairy milk
1 cup mango pieces frozen or fresh
1 small apple
2 stalks celery
1 small cucumber – Persian
3 cups spinach
Petra's Favorite
Two handfuls of fresh spinach
Two cups mixed berries
1 cup Greek yogurt of your choice (non-dairy if preferred)
1 cup of water or more depending on how thick you like your smoothies.
1 banana
1 orange
2 tablespoons ground flaxseed
This quantity makes enough for leftovers!
Dwayne's Favorite
Dwayne, ever the rebel, is sharing a pudding-style smoothie recipe instead because he prefers less liquid.
1 cup yogurt
1/2 avocado
1 tsp pomegranate powder
1 T mct oil
1 scoop collagen
1 scoop chocolate protein powder
Blend, put the mixture in bowl, cover, refrigerate (usually the entire day), and – FINALLY – eat for dessert with a spoon. YUM!
Try them out and let us know which is your favorite in the comments below. Enjoy!
ZenRock's personal trainers are here to support you in your health and wellness journey. Not only can they give you tips for healthy and delicious smoothies, they can help you develop a customized fitness program that is tailored to your specific needs and goals. Please reach out to us and let's get started! You can schedule a complimentary fitness evaluation and training session as a new client at either our Bellevue or Redmond studio locations.