Authored by ZenRock Personal Trainer, Heidi Ellis | Check out Heidi's bio to learn more about her!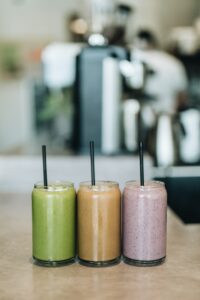 Let's talk about smoothies! Smoothies are a great way to get a ton of nutrients quickly and on-the-go. However, not all smoothies are created equally. Often, smoothies found at retail chains are full of added ingredients and sugars. Your healthy option just became a dessert. Even when made at home, smoothies can be packed with calories and natural sugars. This will create a blood sugar rush that will leave you feeling hungry and lethargic fairly quickly after consumption.
Just like with our meals, our smoothies need to be well balanced in order to be healthy. This is pretty easy to accomplish if you follow some basic steps. If our smoothie is made of only fruit, it will increase our blood sugar levels. When those levels regulate, they first dip, causing you to feel hungry and tired and maybe even cranky. The best smoothies contain fruit, yes, but also protein and fat. Here are some great options to include:
Nut Butter
Flax Seed
Chia Seed
Organic, Non-Dairy Protein Powder
Coconut Milk
In addition to protein and fat, adding vegetables increases nutrients and can keep you feeling full for a longer amount of time. Spinach is a common veggie to add. Using riced cauliflower as a base creates a thickness with the benefit of vitamins. Pumpkin adds an amazing flavor when mixed with the fruit.
Here are ingredients to Heidi's favorite smoothie recipe:
Frozen Riced Cauliflower
Canned Pureed Pumpkin (100% Pumpkin)
Big Handful of Spinach
Flax Seed
Peanut Butter
Frozen Smoothie Fruit Mix (Contains Strawberries, Mango, Pineapple and Peaches)
Almond Milk
Share yours in the comments below or let us know what you think if you try what we've suggested here! ZenRock's personal trainers are here to support you in your health and wellness journey. They can help you develop a customized fitness program that is tailored to your specific needs and goals. Please reach out to us and let's get started! You can schedule a complimentary fitness evaluation and training session as a new client at either our Bellevue or Redmond studio locations.