Authored by ZenRock Personal Trainer, Nick Ray | Check out Nick's bio to learn more about him!
We know how tough it can be to eat healthy in today's world, especially with the high cost of food prices. But we're here to tell you that eating well doesn't have to break the bank! With a little creativity and some insider knowledge, you can continue to eat healthy even as food costs continue to climb.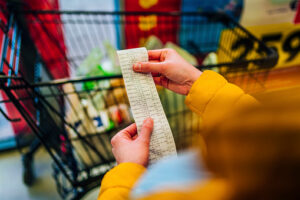 From personal experience, we can tell you that our success with eating healthy on a budget has come from staying connected to health and wellness professionals who are constantly researching and learning about new ways to eat well for less. So here are some tips and tricks we would like to share with you:
Buy in Bulk
One of the best ways to eat healthy on a budget is to learn more about which foods are most nutritious and then figure out how to get them in larger quantities at discounted prices.
Cook More. Takeout Less.
Another option is to start cooking more meals at home and eating out less. This not only saves you money, but it also gives you more control over what you're putting into your body.
Consider Alternatives
If fresh, organic foods are unavailable or too expensive, don't worry! There are plenty of next-best alternatives, such as frozen fruits and vegetables or cheaper, seasonal produce.
By surrounding yourself with a community of people seeking to improve their health, you are constantly being told about the latest deals, the best buys, and how to substitute more expensive ingredients for less expensive ones. With the expertise and guidance of a healthy community, you'll be able to make informed choices about what to buy, what to cook, and how to stay healthy and happy – even when money is tight.
So don't let the rising cost of food keep you from eating well! Your experienced and knowledgeable personal trainers can share more of their tips and tricks for eating healthy on a budget to feel their best when they see you for your training session! They can also help you develop a customized fitness program that is tailored to your specific needs and goals. ZenRock is here to help, so reach out to us and let's get started! You can schedule a complimentary fitness evaluation and training session as a new client at either our Bellevue or Redmond studio locations.