At ZenRock, we understand that life can get busy. It's critical to take a step back and focus on the importance of getting enough sleep for your overall health. Although everyone knows sleep is necessary, not everyone realizes just why it's so important.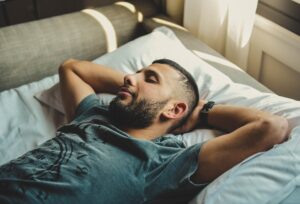 When we sleep, our bodies are hard at work using this time to heal and repair. The sleep cycle is also essential for our mental and emotional well-being, helping us to process our experiences and emotions. But what happens when we don't get enough sleep? Acutely, we may experience difficulty concentrating, irritability and fatigue. Chronic sleep deprivation can lead to even more serious health problems, such as weight gain, weakened immune systems and an increased risk of developing chronic health conditions.
So, how much sleep is enough sleep? Most adults need between 7 and 9 hours of sleep each night to function at their best. We believe there are several habits and techniques you can practice to improve the quality of your sleep and ensure you're getting enough. Some suggestions include:
Setting a consistent sleep schedule
Creating a relaxing bedtime routine
Avoiding screens before bedtime
Regular physical exercise can also help improve the quality of your sleep, making it easier to fall asleep and stay asleep.