Have you heard about the American Gut Project? It is a study that came out claiming people who ate 30 or more plants per week had a healthier gut microbiome than those who ate 10 or less. In simple terms, the gut microbiome refers to the good and bad bacteria and organisms in your large and small intestines. The health of your gut affects more than just digestion. It is responsible for about 80% of your immune system, helps protect against major diseases, and is a contributor to mental health.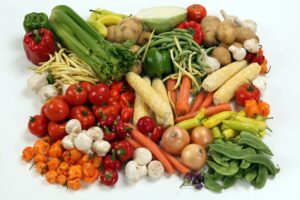 There are many factors to having a healthy gut but what you eat is a primary one. Adding plants to your daily and weekly diet can help. Of course, vegetables and fruits are what we all think about when we consider plants; but remember, there are also legumes, seeds, nuts, and grains. Here are some ideas for how to increase plant intake.
Schedule a meatless day each week. Replace a meal with something like beans and rice. There are many delicious Mexican rice or curry style dishes that include five or more plants.
Enjoy a smoothie. Smoothies are great ways to add many plants! Try smoothies with a riced cauliflower base and a frozen fruit mix that contains at least four types of fruit. Then add flax seed, peanut butter, and spinach. That's eight plants!
Add variety. A favorite healthy snack is a piece of fruit and a handful of nuts. Remember, we are shooting for 30 plants per week, not per day. Try a pear and almonds one day, an apple and pistachios the next day, and blueberries and cashews after that. Yum!
Try overnight oats with add-ins. Steel cut oats are delicious and full of nutrients. You can add chia seeds, nut butter, cocao powder or nibs, and berries. Soaking them in the fridge overnight cuts the prep time.
Prep your food. Each week, roast a large amount of fresh vegetables to add to eggs for breakfast or other quick meals. Shoot for at least five different vegetables. It makes the morning routine quick and easy. 🙂
Thirty plants sounds like a lot but it is possible! Take baby steps. If you have been eating only a few, try adding a couple new plants per week until you reach 30. At some point, you should notice you have more energy and may be ready to kick it up a notch with your ZenRock trainer!
If you have never worked with a personal trainer or given ZenRock a try, please do! Let us know if you are interested in learning more about how we can help you add more plants to your diet. We would love to help you get the most out of the energy you have for fitness wellness activities! Don't hesitate to reach out to us to schedule a complimentary fitness evaluation and training session as a new client at either our Bellevue or Redmond studio locations.