The FITT Principle can be used to help you understand how much to exercise and how hard you should be working when exercising throughout the week. FITT is an acronym for Frequency, Intensity, Type, and Time.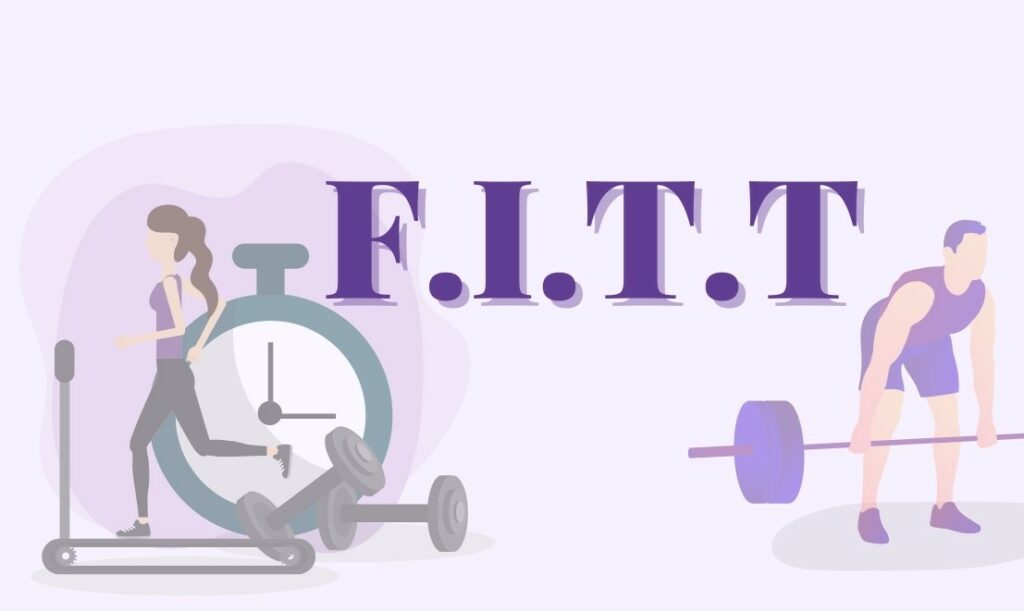 FREQUENCY refers to how often you are doing physical activity. This is one of the measurable items to decide when you are setting your SMART goals. You can plan for exercising three times per week with your trainer and running every other morning.
INTENSITY is your level of effort or perceived exertion when you are doing an activity. We can categorize physical activity intensity into light, moderate, and vigorous levels. We can gauge these levels with the percentage of your max heart rate.
You can calculate your max heart rate by 220 beats per minute (bpm) minus your age. For example, if you are 50 years old, your estimate max heart rate would be 220 – 50 = 170bpm.
Moderate intensity physical activities are usually performed at a higher percentage of max heart rate – between 65% to 75% of an individual's max heart rate. Examples are brisk walking, bicycling, or swimming. Physical activity in this category would take more effort but would not be too hard. It will require slight increase in ventilation and heart rate when compared to light intensity physical activities.
Vigorous intensity physical activities use the highest heart rate, usually at or above 75% max heart rate. Running, circuit training, and weightlifting are some examples. This is the hardest intensity. You will require close to maximal effort in breathing and the longest recovery afterwards.
Using the same example of a 50-year-old above, 65% would translate to 170bpm x 0.65 = 110.5bpm. 75% would translate to 170bpm x 0.75 = 127.5bpm.
Light intensity: ≤ 110.5bpm | Moderate intensity: 110.5bpm-127.5bpm | Vigorous physical: ≥ 127.5bpm
TIME refers to the duration of the bout of activity you might do. Most people think they need to do long bouts of physical activity to reap the benefits, but this isn't true! To initiate your physical activities, you can start with 30 minutes. If you are tight on time and can fit three 10-minute bouts of physical activity into your day, these can still have a positive health benefit, especially if you can accumulate a total of 30 min over the course of the day!
TYPE refers to the kind of physical activity you choose to do. You may choose to do aerobic or anaerobic physical activity. Within each broader category, you can further choose which type of activity you want to do. For instance, doing yoga one day and going for a walk another day, or to alternate running and lifting weights.
At ZenRock Fitness, our personal trainers and yoga instructors are experienced and knowledgeable to assist you in planning your physical activities. We have a new studio location in Downtown Bellevue, just around the corner from Main Street. This is the perfect space for you to achieve your health, fitness, and performance goals! We are currently offering a complimentary fitness consultation and workout. For more information, email jacky@zenrockfitness.com or call (425) 406-0045.