Raise your hand if your New Year's resolutions list included health and wellness goals for 2022? Was getting more exercise on there? You're not alone…us, too! If you aren't satisfied with how you've been doing almost one month in, there's no need to give up. Rather than quit, PIVOT! Mixing things up is a great way to stay interested in and motivated to exercise.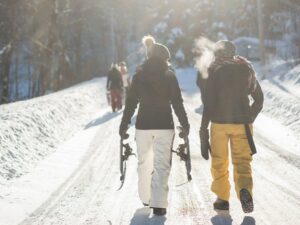 At ZenRock, our trainers encourage clients to supplement their sessions with a variety of fitness and wellness activities. Getting outdoors to go hiking, snowshoeing, running, biking, skiing, snowboarding, or simply taking a daily walk in our beautiful Pacific Northwest environment are great options! We are fortunate to live in a place where we can take advantage of the great outdoors year-round for both our physical health and our mental health.
Participating in virtual fitness is another option. For us, it is not merely a matter of ZenRock OR (fill in the blank), but rather ZenRock AND (fill in the blank). In fact, many of our clients subscribe to virtual services or connected fitness equipment AND they recognize the unique value of our in-person private training and private yoga services to deliver results. According to a study performed by the Journal of Sports Science & Medicine, working out with a personal trainer can improve the rate of success in reaching your fitness goals by more than 30%.
Here are a few reasons why working with a personal trainer is a great way to help you stick to your New Year's resolution:
Accountability: Having a consistent schedule and someone who is expecting you to show up and work hard will motivate you.
Knowledge sharing: You can learn a lot about your body and what you are capable of by training with a knowledgeable, certified professional.
Achievable goals: Are the goals you set for yourself realistic? Or are you not sure what goals to set or what makes sense for you? Your trainer can help guide you along your fitness journey to achieve the results you want, specific to your needs.
Maintain a healthy lifestyle: Working with a personal trainer consistently over time will help you form healthy habits that lead to a healthy lifestyle.
Prevent injury: With proper instruction and someone closely watching your form, you are significantly less likely to get hurt while working with a properly trained fitness professional.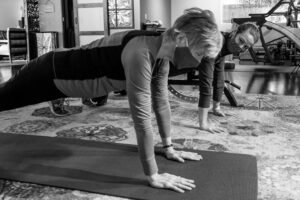 There is no alternative to the experience of in-person connection and the long-term relationships we foster with our clients as a result. It is what allowed us to grow and sustain our business since we opened in Redmond in 2008 and what kept us afloat throughout 2020-2021, and into 2022. We are especially excited for this year as our business is growing and we recently opened a second studio location in Downtown Bellevue! At any given time, we are working with no more than five clients inside our studios. Each client has their own personal space in a private room. Our business model is not one of volume. Unbeknownst to all of us at ZenRock, our business is naturally Covid-safe.
Here are a few more benefits of working out with a ZenRock Fitness personal trainer:
New clients receive a complimentary training session
No annual, start-up, or membership fees
Customized workout program for each client
Schedule a day and time that works well for you
Hour and half-hour sessions available
Individual or partner training
New clients can save $60 on 10 training sessions in Bellevue as part of our Grand Opening Sale (or a discount of $6 per training session, up to 10 sessions)
Our trainers are motivated to work with you wherever you are in your fitness journey and have the tools and knowledge to help you get to where you want to be. For more information, please visit our Contact page to send us a message or give us a call at either our Bellevue or Redmond studios. Or you can sign up now on our Become A Client page. We welcome all bodies and look forward to supporting you wherever you may be on your fitness journey!