Now is the time to enhance your entry and outdoor living spaces with a colorful display of summer plantings. The sun is out, it is warm, and our local nurseries are brimming with a great selection of containers and plant material. So, let's get planting!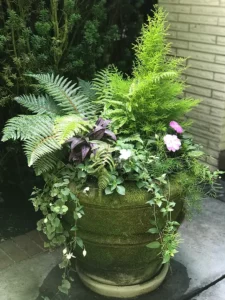 Here are some tips to consider when planning your container garden:
Select a container with holes in the bottom for drainage. If it does not have holes, just ask. Most places will drill them for you.
Use a good quality potting soil that includes recycled forest products, organic matter, and perlite. Soil provides the nutrients plants need to grow and is the foundation of a successful design.
Consider the site of your container. Is it in the shade, or under an eave? Or, on a sunny deck? Be sure to select plants that are suitable to the site and in combinations that will live well together.
Pick a color palette. Complementary colors are opposite from each other on the color wheel and create a striking contrast. (Think purple and gold!) Analogous colors sit next to each other on the color wheel and makes for a harmonious and balanced design.
Create an artful combination by including a variety of textures and foliage with your color.
Water and apply a slow-release balanced fertilizer to ensure your plants flourish through the summer.
Happy planting! Instagram: @cora.morrison.52 | website: www.alulacontainers.com