As a personal trainer and yoga teacher I spend most of my time with people and I love all of my people. But, sometimes I need quiet, peaceful periods when I am not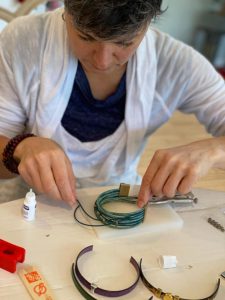 thinking, teaching or coaching anything. Taking that time away is part of good self-care and critical for longevity in a service industry. There are three main things that I use for my self-care. My personal yoga practice is at the top of the list. Time alone in nature is a close second. Rounding out the top three are my creative outlets. Over the years I have found that my creative outlets are often the best at providing a rest for my brain.
I find that quiet space while I am sitting or standing at a worktable covered in small hand tools, leather strips, silver, gold and bronze jewelry charms and clasps. Unless the sun sets or I happen to check a clock, I can sit there for hours experimenting with new designs for bracelets and necklaces. The inspiration often comes from places I have traveled. Colors, textures and designs from Greece and Portugal have been popping up lately. More often than not I give my creations away as gifts. Friends and family tell me I should also create pieces to sell.
Thanks to Petra and ZenRock I have a place to display and sell them. Due to the current shutdown, they are available here on the website. For the end of 2020 and the beginning of 2021 I have designed several different styles of bracelets. All of them can be customized to fit a specific wrist size, a preference of leather color and a color and type of clasp. If you need a unique gift for the season, a birthday or just because…please select a style from the current options or reach out to me in an email for a completely custom design. Welcome to NovaShakti Jewelry Designs. Nova means new, Shakti is the name of the feminine creative energy and together we get: my creative side. Please email me [email protected] to order or customize.
Enjoy ~