Embrace the Power of Intention
Saturday, January 2nd at 2:00 pm
$35 per person
Unlock your full potential with the Power Of Intention
The workshop…
Intention is said to be the most well hidden secret…
The secret of the masters…
When you understand intention and how to use THE POWER OF INTENTION in your everyday life, you will realign with the power to create the outcome you desire and deserve! Reconnect with true joy and passion again!
What is intention and how can you make it work for you?
You will discover the magic of being intentional and how understanding intention is the first step on the path to a powerful, purpose-driven life. You will no longer be at the mercy of life but instead will take back control by getting in the driver's seat. Intentions shouldn't be taken lightly, instead prioritized and revered as they are the secrets of the masters.
During this workshop, you will learn to let go of limiting beliefs while resolving to step into a life filled with abundance, prosperity, divine relationships, wonder, and passion! You will leave with a clear, personalized vision for 2016.
Bring a pen and paper!
More about Debbie: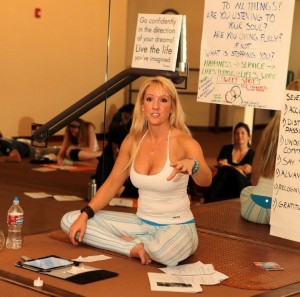 Author of "Over the Rainbow" Your guide to living the life of your dreams, Debbie Dixon is an entrepreneur, business owner, yoga teacher, life coach and inspirational speaker. Debbie has been holding workshops and seminars for over seven years – inspiring, motivating people to step outside of their comfort zones and into a life filled with freedom, prosperity, joy, happiness and infinite possibilities. She has contributed to her local community providing a place for transformation, recalibration and reconnection with people's passion, purpose and highest and best good.
Seven hot Yoga, Debbie's yoga studio and hub of self transformation had been a dream of hers since her very first yoga class over 18 years ago. Realizing this dream was a direct result of using the methods and techniques she teaches. The journey wasn't easy, Debbie has overcome many obstacles on her path. At 15 she was homeless, by 17 pregnant. On her own with nothing but will power and pure intentions to provide the best life she could for her son she overcame determined to prove that "LIFE IS GOOD!"
Guiding people into their own self discovery everyday as a yoga teacher, she also does workshops, public speaking, life coaching and holds local and international retreats. These retreats allow people to use yoga, meditation and her techniques to reconnect with their purpose and deepest desires, the essence of their being, while disconnecting from their everyday routines and finding themselves in a new setting.
Offering a guide out of the mundane cycle of waking up, working, going to bed and into a passion driven, purpose filled life where wishes are granted instantly, prayers are answered and love, light, peace and happiness exist in every breath, she provides an easy to use instruction manual for creating a life where you are no longer an observer of the life of your dreams, but a participant.