One thing that sets ZenRock Fitness studios apart from other local fitness facilities is the unique atmosphere we intentionally curate. From the warm colors of our walls to the decorative rugs, the attractive planters by our front doors, and the creative artwork you see displayed around the studios – it was all thoughtfully considered.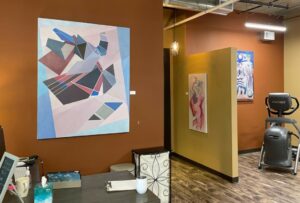 We regularly work with a consultant from Ryan James Fine Arts to help us find the right look and feel for the contemporary abstract art we hang in each studio. They also offer an Artwork Rental Program for fine art pieces from their collection that can be rotated every few months. And the best part is…they do the installation! It's a great service that you can use for either your office or home.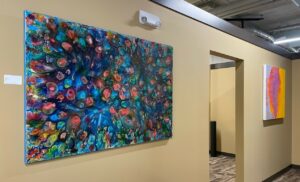 If you haven't seen the latest artwork on our walls at our Bellevue studio, we encourage you to come by to take a look and get in a training session while you're there! If you are interested in reaching out to Ryan James Fine Arts for more information, please let them know you were referred by ZenRock. And don't forget to tell us about what you end up putting on your walls, we'd love to see!