If you need to unwind, reconnect with nature, and find your Zen… our yoga retreat in Bali is just what you're looking for! Join ZenRock Yoga Journeys on an unforgettable yoga vacation of adventure, food, local culture. Your vacation has been carefully curated to create a serene and sublime experience that you can carry home with you, reconnecting with your best-self.
March 12 – 22, 2016
Join us for an informational at ZenRock Fitness on December 12th at 1 pm!
This amazing adventure is $4,000 for double occupancy and $5,500 for single occupancy.
Pay in full by January 20th and receive $200 off!
$1,500 Deposit due by January 15th
Full payment due February 15th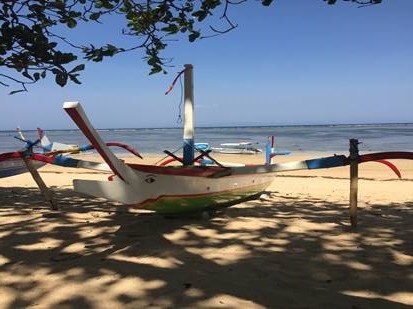 Includes:
10 nights' accommodation (double occupancy) 
2 daily yoga classes
9 scheduled excursions
catered meals
and transportation to and from the airport
Your exciting excursions include:
A traditional Balinese cooking class in the mountain town of Ubud
Mountain biking tour
Exploring the Monkey forest
A local art tour
Paddleboarding in Sanur
Snorkel and dive in Sanur
Whitewater rafting
Visiting historical temples (Tanah Lot and the Royal Temple, a World Heritage Site)
Early morning hike with hot springs
and of course, morning and evening yoga with Nova and Petra!
---
Your Accommodations

The Inata Bisma Boutique Hotel
Days 1-5 at The Inata Bisma Boutique Hotel; Ubud, Bali
Inata Bisma is a charming Balinese family-style compound situated off the quiet and tranquil Jalan Bisma. With panoramic views of beautiful rice terraces, we will be far from the noisy and busy town activities and able to relax after our invigorating activities. Inata Bisma was designed specifically for those seeking a peaceful and relaxed environment.
The Sanur Residence Villas
Days 6-11 at The Sanur Residence; Sanur, Bali
The Sanur Residence is a modern, quiet and spacious nine-bedroom oceanfront estate on Bali's southeast coast. Located close to the tourist enclave of Sanur, it looks out over the sea and rice fields to the neighboring islands of Lembongan and Penida. There are three villas with three bedrooms each, and you will enjoy living and dining areas with guest kitchens. There is a communal dining room on the estate and an infinity pool, manicured gardens, and relaxation pavilion. We will hold meditations around the Villa's grounds.
The Cuisine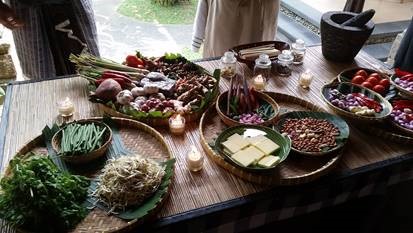 Fresh, local, and sustainable
Explore an abundance of fresh Balinese ingredients prepared in delicious traditional dishes. Flavorful yet mild, Balinese cuisine is known for a high reliance on aromatic spices and heaps of vegetables.
Ubud is a hub of Balinese food culture. While there, we will taste regional interpretations by local chefs using only locally-sourced and sustainable ingredients. A restaurant tour is the best avenue to partake in these delicacies.
In Sanur, our personal chef will create beautiful, home-style recipes showcasing the diversity of healthy, organic foods available just steps from the front door of our villas. Guests will have the opportunity to participate in a cooking demonstration to recreate these amazing, nutrient-packed dishes at home. Questions are encouraged!
The Excursions
Balinese Cuisine Class at Lobong Cooking School
Here is a unique opportunity to learn the secrets of those bright and complex seasonings you've experienced in South Asian cuisine. Our experience with Lobong Cooking School begins at the local market where our host purchases and explains the fresh herbs, spices, fruits and vegetables in the dishes prepared in our class. We will take the ingredients back to the family compound where we will enjoy a hot cup of coffee or tea and their famous Pisang Goreng – a fresh, crispy banana fritter.
We will sipping our drinks, we will learn about the Balinese lifestyle and culture. Lobong Cooking School describes this experience as "…not a class, but a meeting of people." Our hosts will give us an illustrated instructional booklet with recipes, photos, tips, and plenty of space for personal notes.
On conclusion of this experience, you will easily be able to duplicate your meal at home for your family and friends. Our chef will even teach us how to use banana leaves as serving dishes and decorations when we treat our loved ones!
Bali Rides Mountain Biking Tour
We will explore the Batur volcano in the middle of the ancient caldera, the source of eruption. The route follows farmland on wide tracks and traverses the rough lava flow easily on well-traveled automobile wheel tracks. There will be a mix of short sandy sections and some asphalt. The ride is a great beginner's choice, yet scenic enough to interest more advanced riders. Depending on fitness level, there are two points where this route can be started – mid-way between Lake Batur and the Batur Volcano Crater; or at the edge of Lake Batur itself. We will decide our best tracks and organize groups accordingly. Never fear your ability or desire! Sometimes we want to ride hard and sometimes we want to take it all in. All rides are spectacular eye-candy because we have personally experienced them!
Sacred Monkey Forest, Ubud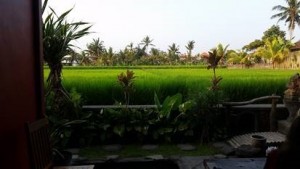 What is a sacred forest? The website describes "the presence of sacred forest [as] a true demonstration of the harmonious coexistence of humans and nature. In Bali, sanctuaries such as the Monkey Forest are usually in sacred village areas, often surrounded by temples. These cultural sanctuaries are not only an important part of Balinese heritage, but also an important part of everyday life. Temple festivals are regularly held for the villagers and the gods in such areas. A Balinese temple is more than just a collection of pagodas and pavilions. The area enclosed by temple walls and the forest area surrounding it is sacred. These temples and the forest are essential for renewing contact with the spiritual world. The activities associated with these areas are essential in maintaining harmony between humans, nature and the cosmos. Not only are ancestral spirits and gods given offerings and prayers, but also the spirits of trees and statues in the Monkey Forest are given offerings and prayers by the Pemangku and local villagers"
This is also a place for monkeys and when you have humans valuing harmony and peace and nature and there are monkeys in the same place, get ready for some hilarity.
Art Tour, Ubud
Batik is a magnificent dyeing technique originated in Indonesia, and Bali Batik has its own flavor and style. We will observe these beautiful fabrics and then visit the Celuk village which is known for working with gold and silver. After the Celuk Village, we will visit the Mas Village which is famous for wood carving. Like Balinese food, Balinese art is unique to the artist, and each village has a specific trade that they have been practicing for generations.
Ridge Walk, Ubud
The Ridge is our hideaway height from the hectic South; a trail with a pristine outback. The hike gets you above the din in cool, fresh air and exposes you to a gorgeous hillside vista. It is a little over 5 miles, so you will sweat out prior indulgences and free any tensions you carried with you to Bali.
Paddleboarding, Sanur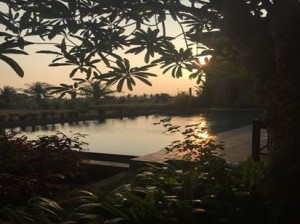 Learn the basics with stand up paddleboarding on this entry level course designed to get you up and paddling fast. If you are already familiar with paddleboarding, Nova will challenge you to paddleboard yoga.
We'll start with on-land workouts to learn the best paddling technique and how to stand on the board. Then we will move to flat and calm water, where you'll practice paddling and turning with our local coach.
Introductory Snorkeling and Diving, Sanur
Have you ever wondered what it's like to breathe underwater? Or why divers from all over the world come to dive in Bali? If you want to find out, but aren't quite ready to take the plunge into a certification course, we have aligned with a Balinese Intro Dive Program for SCUBA to experience it for yourself. As your safety is our top concern, we are working with an approved organization. For those who prefer, we have a snorkeling alternative.
Whitewater Rafting and Temples Along the Way
We will explore Ayung River with 1.5 hours on the water and a total of 6.2 miles of paddling. The secret beauty of Bali will be unveiled as we progress downstream through villages and rainforests and past waterfalls, with the ever amusing monkeys at our side.
Afterward, we will have the privilege of visiting the Royal Family Temple (Taman Ayun), a UNESCO world heritage site, in Mengwi Village. We will coordinate with the tides to visit the nearby beautiful offshore temple, Tanah Lot, known for becoming an island during high-tide. Magnificent!
Mount Batur Hike and Hot Springs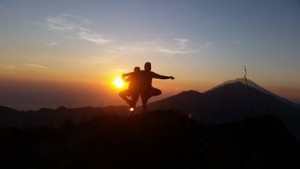 We will drive to the edge of Lake Batur where the trek begins. From here we will continue our ascent to the peak of Mount Batur, a hike comparable in difficulty to many of our local Snoqualmie and North Cascades peaks.
The best part of this journey on Mount Batur will be the time of day: as it is an island near the equator, we can reach the peak and watch the sunrise over the horizon. We will wear headlamps, as the day will not have started by the time we start walking the mount. We will see three nearby mountains; Mount Abang, Mount Agung, and Mount Rinjani in Lombok Island. On a clear day and perhaps below the cloud forest, we may see Lake Batur, the caldera, and all the way to the sea. We can think of nothing more inpiring.
Your Hosts
Petra Dumm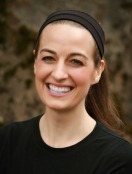 OM SWASTIASTU!
(Hello in Bahasa Indonesian)
This is my third ZenRock Yoga Journey and I can't wait to experience the beauty and culture of Bali with all of you. I am approaching my ten-year anniversary as a yoga teacher and I love it even more today than when I started. Yoga allows us individually-together to explore parts of ourselves that we have long forgotten and reconnect us with our best self. The more I teach, the more I learn; my students trust me with their unique self every time we practice and this is my reason to be.
Bali is a dream destination for many, though for what reason they may not be able to pinpoint. They know it is an island, part of Indonesia, and some may suspect it is volcanic. Some may think of Bali as an Indonesian Hawaii, perhaps with some huts in an open ocean. Everyone is partially correct but no one is completely accurate.
Visitors speak to the natural beauty of the mountains and oceans, the kind & open-hearted Balinese, and the deep spirituality of their culture. Returning from my last visit, I summarized to my friends and family: it is similar to Italy but an island, South Asian, and instead of churches there are delicate and intricately decorated Hindu temples supporting traditions of sacred offerings. Clearly, this summary is woefully inadequate and I am eager to take ZenRock Yoga Journeys to Bali so we can further attempt to touch its magic.
If you have come with us to Italy and Costa Rica, you know your experience will help you discover your own place within a beautiful space and Bali will be no different. Furthermore, and possibly for the first time, you will be able to practice in a spiritual environment which is the root of yogic tradition.
During this yoga retreat and adventure, Nova and I are going to help you dive into Balinese culture to see, taste, feel, and experience all it has to offer while keeping focus through morning and evening yoga practice in a comfortable and safe home base. Nova and I have put together unique trip that will leave you inspired and restored, carrying with you a deeper sense of self.
My goal for this retreat is to have each of you find your own Bali and to not just say "namaste" but to feel it emanating from your best-self place, your yogic soul.
I am looking forward to sharing this adventure with all you. Namaste.
Nova Guthrie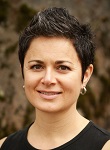 Yoga is one of my passions in life because it has changed how I see myself, the people around me, and the world as a whole. Every time I teach yoga, I feel that I am learning as much or more than I am teaching. It is such a beautiful way to connect with oneself and with other people.
When we went to Costa Rica this past February the thing that I enjoyed most was watching each person connect to a new part of themselves, with the rest of the group, and with the incredible place and people of Costa Rica. That is also what I am looking forward to in Bali. I want to see what each person sees within themselves and what they see in the people with whom they are traveling. Bali is a very unique and special place, and this is a rare opportunity to see it through the eyes of other people.
When Petra and I went to Bali in October, I was very aware of the fact that we were in a culture completely different than our own. As a woman, I have rarely felt safer traveling in a foreign country. It took us a few days to find the deeper essence of Bali, but once we did I knew that I wanted to share it with a group of people who love to explore the world and how it makes them feel. Bali is not just beaches, waves and yogis finding themselves; it is a small island crammed full of both natural and man-made wonders. It is so full, that at times it can be overwhelming. It is also very magical, and if you look closer you find beauty that takes your breath away.
Join us with an open mind and see what you can find on the other side of the world. I am honored to have the opportunity to experience Bali with Petra and all of you who choose to go with us.
Namaste,
Nova
---
ZenRock Yoga Journeys is proud to present this incredible opportunity to share our love of yoga, food, nature, beings, and friends. Bali is a magical place where everyday living is as artful as the surroundings. Who knew there were mountain ranges on such a small island? And monkeys everywhere? This is a truly special place. As are all of our Journeys.
Join us for the trip of a lifetime including yoga, sustainable and delectable food, unforgettable experiences, and inconceivable sights. We will do all this in a casual pace, living for intellectual and spiritual rejuvenation, individual centering, and personal re-connection with your best-self.
Yoga workshops are customized to address the needs of all students, offering variations for beginning through advanced practitioners.
All excursions are optional and will be customized to the abilities of the participants.
There are only eight rooms available!
Reservations are on a first come, first serve basis.
Please contact Petra to make your deposit.
Airfare, alcoholic beverages and meals outside the itinerary plan are not included in the quoted price.
Payment is due in full by February 15th, 2016.
To honor the true spirit of island living please allow for changes to the itinerary or any scheduled events.