This retreat has already occurred, but the information below provides a good overview of what what we plan for our Yoga Adventure Retreats and how we present them to participants. You can also view videos and photos from the Zion retreat on our Instagram channel.
---
9-Day Yoga Journey
Bali is a magical island in Indonesia. There is no other place like it on this planet. It offers a wonderful blend of culture, people, nature, activities, weather, culinary delights, art, and gorgeous accommodation! Bali is an adventure, a journey, and a destination. It is a place to let go and experience all your senses. It is a place that offers something for body, mind, and spirit. We cannot wait to share this incredible place with you!
March 12-20, 2023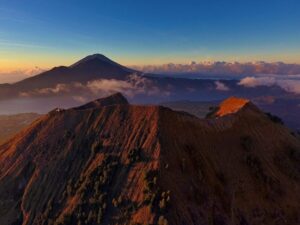 Includes:
Accommodation for 8 nights in a luxury villa
Daily yoga in our private yoga shala
Healthy, delicious, chef-prepared meals
6 scheduled excursions
Transportation provided to all excursions (Not Included: Airfare to Denpasar, Bali and transport to/from the villa upon arrival and departure)
Excursions Include:
Local market excursion and cooking class in a traditional, Balinese family home
Sunrise hike to the top of Mt. Batur and hot springs soak after the hike
Paddleboarding and beach day
Ubud arts tour: stone-carving, silversmithing, Batik, and more
Mountain biking or alternative tour
Temple tour and Campuhan Ridge Walk
---
Luxury Jungle Villa…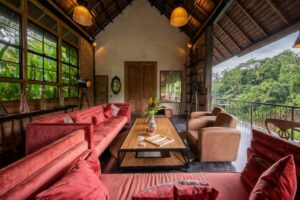 Bedulu Cliff Estate Complex makes up a luxury, newly built 9-bedroom villa with two private pools, rice paddy garden, and breathtaking view over the valley of the Petanu River. This space is truly unique due to its location and breathtaking view in a very peaceful, clean and green area. Nestled in the jungle, it feels remote and yet it is located only 5 kilometers from Ubud center, the capital of the cultural heart of Bali.
Each beautifully decorated room has its own bathroom and is air-conditioned. The villa offers charming shared spaces, access to the river, and an incredible yoga shala overlooking the river valley. This villa is made to provide guests an authentic Balinese experience and a calm, relaxing atmosphere.
---
The Culinary Experience…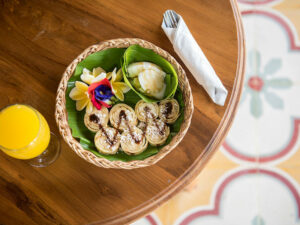 Each morning after yoga we will eat healthy, hearty breakfasts prepared by our chefs to fuel our adventures. Lunches will be out on excursions most days. This may be trail-side in the jungle or at a Balinese home during our cooking class. Dinners will be prepared by our chefs in the villa most evenings. Expect to indulge and be pampered after each day's activity! The dinner table is our favorite place to connect and share stories.
All dietary restrictions and special requests will be accommodated. Please let us know if you are vegetarian, vegan, dairy-free, gluten-free, or have any other allergies we should be aware of.
---
The Excursions…
Cooking Class & Local Market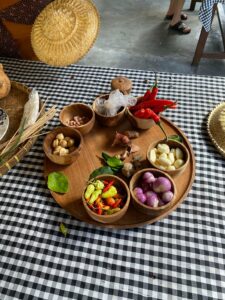 We will begin our Balinese adventure with a cultural immersion with a local family.
We will be taken to shop for groceries in a local market and then taught to prepare a meal in a multi-generational home and kitchen. From sambal and satay to special rice and dessert, we will learn how to cook and eat like a Balinese family.
While crispy duck and suckling pork are staples of the local diet, there is no shortage of fresh, organic vegetables and aromatic herbs grown in the garden or around the corner.
Sunrise Hike & Hot Springs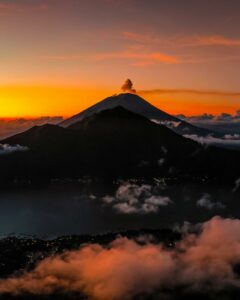 We will stand on the top of an active volcano at sunrise sipping coffee. Our expert guides will lead us through the jungle to scale Mt. Batur under the stars.
The views from this iconic peak will allow us to see other volcanic peaks, the ocean, and the jungle. We will follow our adventure on the mountain with a soak in local hot springs before heading back to the villa for a relaxed afternoon napping by the pool.
Paddle Board & Beach Day
We will spend a day on the water, in the water, and by the water. Bali's gorgeous, blue-green ocean is just the right temperature to cool off in and float the day away on.
The beach at Sanur has a lovely, long boardwalk to stroll while shopping in the stalls. It is also a great place for lunch and a drink. We recommend the fresh fish and a ginger mojito!
Ubud Arts Tour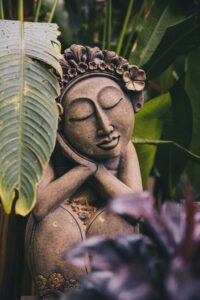 Ubud is the center of many different art forms. We will spend a day visiting different artists at work and have the opportunity to watch stone carvers, wood carvers, silversmiths, painters, and Batik makers in their studios.
There will also be a chance to purchase directly from the artists and understand the process each artist goes through to create their special and unique pieces. Ubud is also filled with galleries that display artists from all over the island.
Mountain Biking or Alternative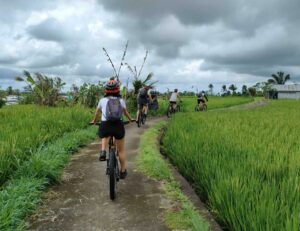 Some of the best mountain biking happens on single track through the rice paddies and cross country from the base of Mt. Batur heading back toward Ubud.
We will have expert mountain bike guides who take us on a beginner/intermediate ride through villages, past temples, and across the rice fields. We will have support available throughout our ride and plenty of refreshments. For those unable to ride or wishing for a different adventure, we will have an alternative hike or excursion planned.
Temples & Culture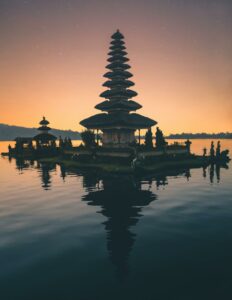 The island of Bali is predominantly Hindu and is full of elaborate temple complexes as well as smaller, simple shrines and family offering places. The smell of incense and flowers is everywhere, and each day begins with taking time to be grateful.
We will visit several sacred places and our guide will explain some of the traditions that are practiced every day and throughout the year.
---
Your Hosts…
Nova Guthrie & Georgina Verza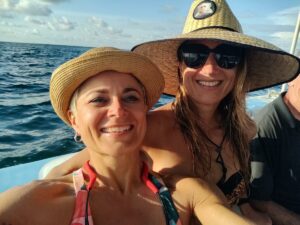 Travel and yoga – what a beautiful combination! Each trip we take with our small groups of adventure seekers brings something new and different while always holding space for renewal, discovery, growth, and simple joy.
Nova and Georgina will lead you through yoga practices, breathing, and meditation each day. They will be your guides on curated tours, and they will be your hostesses in our villa/sanctuary.
At ZenRock, we spend time getting stronger, finding more flexibility, building better habits, and maintaining healthy balance. Our yoga journeys are a further exploration of that healthy balance with the added bonuses of food, relaxation, and friends. We cannot wait to have another adventure and to share Bali with you!
---
Additional Information
Yoga classes are customized to address the needs of all students, offering variations for beginners and advanced practitioners. All excursions are optional and will be customized to the abilities of the participants.
There are a limited number of rooms available. Reservations are on a first come, first serve basis. Please contact Nova to make your deposit or use our Mindbody site.
Airfare to Denpasar, Bali, most alcohol, two lunches outside the villa, guide gratuities and non-itinerary activities are not included in the quoted price.
To embrace the spirit of travel, please allow for changes to the itinerary and scheduled events due to weather, guides, and the unforeseen.