Our Philosophy
At ZenRock Fitness we believe optimal wellness is an art as well as a science. We guide you to optimum long-term health by combining Eastern philosophy with Western technology. ZenRock focuses solely on the individual. Our private rooms allow for high energy one-on-one training sessions free of external distractions.
Your time with us will harmonize and motivate you, ultimately laying the foundation for lasting strength, well-being, and joy in your everyday life.
Our mission is to enhance your life by providing you with a broad range of fitness and personal services in an atmosphere of comfort and stability.
Our Staff
ZenRock's staff has been carefully selected to represent the very best in their respective fields. Our professional certified trainers are guided by a steadfast belief that one-on-one training in a private studio, devoid of distractions is the optimal way to achieve significant, long-lasting results.
Petra Jahn: Owner and Founder; Personal Trainer and Yoga Instructor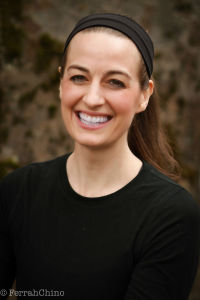 Petra Jahn opened ZenRock fitness in July 2007 with the intention of creating a safe and comfortable space where people of all ages, abilities, and bodies could set personal goals and achieve results. An athlete since age six, Petra competed in basketball through college, training with many coaches and learning their techniques for getting the results they wanted from her. In 2000, having just started playing for College of Marin, she began doing yoga to cope with the demands of scholastics, athletics, and a full time job. Her early yoga practice gradually shifted her definition of real fitness and she wanted more from her body.
She began to see fitness in terms of lifestyle and not a game; in terms of overall life quality and not a flash performance. ZenRock mentality was forming: a fitness center where the work is difficult but compassionate trainers are empowered to form strong, sustaining relationships with their clients; help them work with their body today; and who can quickly adjust an activity before challenge becomes injury.
Today, after nearly a decade in service to the Redmond community, ZenRock Fitness is a comprehensive fitness experience, with opportunities for small group education, weekend outdoor activities, and annual yoga journeys to such beautiful and luxurious locales as Tuscany (2010), Costa Rica (2015), Bali (2016), and the Greek Isles (2017). Costa Rica (2018), Portugal (2018) and planning a return to Tuscany in October 2019. Please visit our home page for a link to the Tuscany information.
Petra is proud of her staff of trainers, her clients, and her ZenRock family, all of whom are dedicated to the ZenRock mission: bettering lives through movement, strength, meditation, diet, adventures near and far, and a safe space to work on individual goals.
Professional certifications:
ACE Certified
Certified Yoga instructor
CPR/First Aid Certified
Dwayne Valeau: Personal Trainer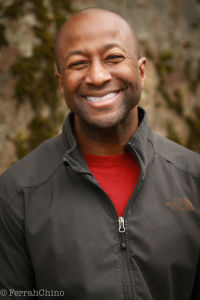 I have been involved in the fitness industry for the past 20 years. I began training friends and clients in Atlanta, Georgia, working at both Sportslife and Jean's Bodytech. I moved to Seattle to continue my education and return to the West Coast.
After suffering a major knee injury in college, my weight ballooned to 248 pounds. I was feeling betrayed by my body – the ability to exercise (and age) had always counteracted my eating habits. By changing my relationship to food and incorporating rehabilitative and proper training techniques, I was able to reclaim my life. This success has continued to motivate me to help clients reach their weight loss and health objectives.
When we opened ZenRock, over a decade ago, we quickly realized that people were looking for a place that was comfortable and intimate but still dedicated to the work necessary to make meaningful changes. I am so proud of the work we do, the clients we serve, and the family we have built. Many people feel trapped in their current physical existence. They are unable to break the cycle or lack the skills to realize their dreams. My goal is to guide and support you in attaining he fitness and well-being you deserve. Stop just existing and really start living your life!
Professional Certifications:
AFPA Certified
CPR/First Aid Certified
Nova Guthrie: Manager/Retreat Coordinator/Trainer and Yoga Instructor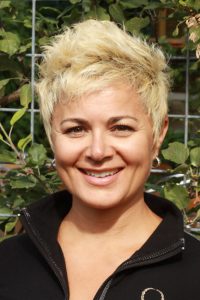 I have always loved working out, being active and understanding the human body. I participated in competitive sports throughout grade school and studied the human body as part of my Biology Degree. However, I did not always take good care of my body and I went through a period of being severely overweight and out of shape. Doing battle with the scale and my own mental attitude reignited my interest in health and fitness.
In the process of losing more than 50lbs, I returned to my love of fitness and movement. I began practicing yoga in 2003 as part of my workout routine. It was the missing component and the perfect complement to resistance training. Yoga ultimately became the cornerstone for building the life I truly wanted. In 2006 I became a Certified Fitness Trainer. In 2018 I became a Master Trainer. I will always be striving and learning to better serve our clients.
In 2013 ZenRock became my work home and brought all of my goals together — personal training from a place of mindfulness, yoga/travel retreats and the opportunity for me to grow as a trainer, yoga teacher and woman. I am full of gratitude to be working at ZenRock, a place that welcomes all the human challenges and seeks to offer tools to work through them.
Professional Certifications:
ISSA Master Trainer

Specialist in Corrective Exercise
Specialist in Exercise Therapy
Youth Fitness Trainer
Specialist in Fitness Nutrition
Specialist in Senior Fitness
Certified Fitness Trainer

Yoga Fitness Yoga Instructor
BS in Biology, Morningside College
CPR/AED
Mehdi Ansari: Personal Trainer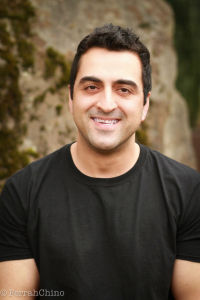 As a child I was extremely passionate about fitness and my family teased me for it. I was reading fitness magazines and writing workout plans as a small boy while spending every other moment playing soccer with my cousins. By the time I was a teenager, when not in class, I could always be found in the gym. After serving a mandatory 2 years in the Iranian military, I came to the United States where I earned my BS in Exercise Science. At the same time, I trained vigorously in mixed martial arts and began competing in bodybuilding.
Overall my intent and ambition is to help others develop fitness through education and movement. I love helping my clients define health goals and then creating interesting and engaging workout plans achieve them. I am comfortable guiding my clients through yoga poses and martial arts reps, and always safely. I also integrate bodybuilding techniques and am always willing to train aspiring competitive bodybuilders. Over the years I have successfully established a wonderful and loyal clientele and love the way they enrich and teach me every day!
Professional Certifications:
National Strength and Conditioning Association (NSCA) Certified
Associates of Applied Science degree in Exercise Science
CPR/First Aid Certified
Britt McWilliams: Personal Trainer
Born and raised in Kirkland, WA, I have been specializing in Group Fitness since 2012.  In 2016 I became a Master Trainer for Jillian Michael's and travel throughout the Northwest region training instructors on her Bodyshred program.
Striving for continuing education and having a strong desire to learn, I shifted my focus to nutrition in 2014.  Immediately I noticed a giant lack of coaching and positive support systems for the average individual looking to make smart choices. So I took the love, happiness and high energy aspect of my experience with Group Fitness and combined with the true science based facts of nutrition.  Using real food to reset the metabolism, but catering this theory to adapt to the specific client, rather then using cookie-cutter methods.  My biggest goal is to show every client I encounter that "eating clean" and being "healthy" doesn't need to be overwhelming or scary.  In fact, it should be fun!  I strive to not only provide unconditional support but educate throughout the entire process so that clients can be in charge of their own lives. And that they eventually feel confident to continue making positive choices permanently.
Working with me, clients can expect an experience catered to them, their needs, and their immediate goals.  Whether it be with training or diet help, the coaching support is always unconditional and non-judgmental.
Professional Certifications:
Nutritional Coach
AFAA Group Instructor
PRECISION Group Instructor
Jenifer Tighe: Personal Trainer
My passion is working with people who are new to exercise, who are finding their way back to exercise, or just coming off an injury. Functional training being my area of expertise, my focus is to increase my clients' overall strength, increase balance and stability, decrease risk of everyday life injuries, and improve overall quality of life. I strive to provide my clients with a reassuring and positive experience.
I love fitness and I love helping others. It was the owner of the gym where I exercised who encouraged me to get certified as a personal trainer. He had noticed his members seeking my advice and wanted to hire me as a personal trainer. My greatest satisfaction in my work comes from having a positive impact on people's lives, seeing their health improve, and watching their confidence grow.
Professional Certifications:
Personal Trainer – National Academy of Sports Medicine
Cancer Exercise Specialist – Cancer Exercise Training Institute
Sports Medicine Certification – West Valley College
CPR/AED Certified