Personal Trainer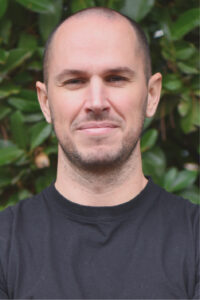 I was born and raised in France. I've always been active, adventurous, and grew up in a very outdoorsy family. When my grandparents would take me on vacation, we spent a lot of time outdoors. My grandpa taught me skiing and spearfishing. I have always had a special connection with the sea, probably because I'm a Pisces. Scuba diving, snorkeling, or spearfishing – I spent a lot of time in the water. However, I grew up practicing multiple sports: judo, soccer, basketball, rugby, sambo, boxing, and swimming. These different experiences allowed me to develop my motor skills and coordination. In 2014, I started crossfit and eventually began participating in many crossfit competitions.
Naturally, I choose the path of sports studies after high school. I graduated with 2 master's degrees in sport and business. In parallel to that, I also got 2 sports certifications from the French National Sport Institute (CREPS) as a strength and conditioning trainer and as a swimming instructor/trainer.
During my last job in France, I was the Manager/Assistant Director of Thalasso Resort (Spa/Retreat) in Brittany (Northwest of France). At Thalasso I managed a team of personal trainers and a swimming instructor/lifeguard. In September 2019, I made the decision to move to the United States. I worked a bit in NYC where I built my network of clients. I have travelled quite a lot and visited many places on the east and west coast. I finally decided to settle down in Washington where the lifestyle and the environment suits me best.
My training lifestyle is very centered on functional training and cross training. If we have the chance to work together, you'll learn how to push, pull, and lift always in a safe manner! Squat, deadlift, push up, pull up, strict press…all are on the French menu! I focus my training mainly on global movement that requires a maximum engagement of many muscle groups and develops coordination. By experience, these movements are the best way to burn and build strength in the most effective way. I always push and encourage my clients to give their best, but I want them to have a fun time and to enjoy!
I'm not going to lie, I'm not a magician. It's a team job and you'll have to do your part. Nutrition and consistency are the key to success! Great things never come from comfort zones. Stay focused…small things add up and result in big change.
"Who dares will always win."
Professional Degrees & Certifications:
Master's in Sports Management, University of Toulouse
Master's in Business, Toulouse Busines School
Personal Training & Swimming Certifications from French National Sport Institute (CREPS Toulouse)
Foreign Language Proficiency: